Z7_NQ5E12C0LOF160QDKRNCOGGJI3
Portal U de A - Cabezote - WCV(JSR 286)
Actions
Teclas de Ayuda de acceso Rápido
ALT + 1 Inicio
ALT + 2 Noticias
ALT + 3 Mapa de sitio
ALT + 4 Búsqueda
ALT + 5 Preguntas frecuentes
ALT + 6 Atención al ciudadano
ALT + 7 Quejas y reclamos
ALT + 8 Iniciar Sesión
ALT + 9 Directorio telefónico
miércoles, 17 de agosto 2022
17/08/2022
Links
Z7_NQ5E12C0LOF160QDKRNCOGGJ35
Inglés UdeA - MegaMenu - JSR(286)
Actions
Z7_NQ5E12C0LOF160QDKRNCOGGJA0
Portal U de A - Visor de Contenido - WCV(JSR 286)
Actions
Z7_NQ5E12C0LOF160QDKRNCOGGJA1
Molecular Hematopathology
Academic Unit:
School of Microbiology
OECD
Discipline Medical and health sciences
Subdiscipline Clinical medicine
Strategic Focus
The Molecular Hematopathology Group (HEMO Group) of the School of Microbiology of the Universidad de Antioquia, through the study of the different blood components and the application of new technologies, proposes the development of research lines in the area of hematology. This is done to promote basic and applied research and, at the same time, to make the generation of knowledge and the formation of human resources possible at an undergraduate and graduate level. Strategic Lines: Physiology and Hematic Pathology: Alterations in hemostasis: Immunohematology and blood bank:
Research Areas and Topics
Hematic physiology and pathology.
Alterations in hemostasis.
Immunohematology and blood bank.
Sustainable Development Goals (SDGs)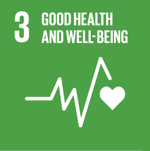 Group Coordinator
Paola Andrea Acevedo Toro, MSc
Master's Degree in Microbiology. Emphasis Hematology.
School of Microbiology Universidad de Antioquia – Colombia.
Group Coordinator Email
Scientific Cooperation
Collaborative Relationships
Academic and research partnerships: UNIGEM, Dinámica - SURA, School of Microbiology blood bank, Biocientifica Ltda y Hemociencia, Mindray.
Notable Projects
Methylation analysis in patients with chronic myeloid leukemia in different medical institutions of Medellin.
Characterization of B-cell monoclonal lymphocytosis in relatives of patients with chronic lymphoid leukemia and its relation to demographic and biological variables.
Behavior of serum hepcidin in donors who attend the blood bank and in patients with disorders related to iron metabolism who attend the IPS University clinic León XIII, Medellin, 2013.
Mutations profile in coagulation Factors V and II and in methyltetrahydrofolate reductase in patients with thrombophilia treated in IPS Dinámica in Medellin between 2017-2018.
Frequency of mutations in the genes JAK2, MPL and CALR in chronic myeloproliferative neoplasms bcr/abl negative of different institutions in the city of Medellin.
Analysis of mutations in coagulation factors II and V and in methyltetrahydrofolate reductase in patients with thrombophilia treated at Dinámica IPS in Medellin.
Main Research Results
The Molecular Hematopathology Group is a pioneer in the determination of the hepcidin molecule, which is important in the evaluation of some hematological disorders in which iron metabolism is affected. With this project, the group won a second place for the best research by the Asociación Colombiana de Hemato Oncología (Colombian Association of Hemato-Oncology).
Among other projects with social impact that were awarded by the Colegio Nacional de Bacteriólogos (National College of Bacteriologists), we highlight isoimmunization screening of umbilical cord samples from neonates assisted at a fourth level of complexity clinic in eastern Antioquia.
ACOBASMET 2020 Silver Award FOR RESEARCH. Is it necessary to complement coombs direct results with elution in erythrocyte isoimmunization research?
Research Portafolio
Haematological Consultancy Service: This service supports the morphological review and correct interpretation of the hemoleucogram to provide an accurate diagnosis and quality assurance of some hematological and non-hematological diseases. Some examples of them are anemias, acute and chronic leukemias, lymphomas, myelodysplastic syndromes, multiple myeloma, and mononucleoside syndrome.

More Information

Z7_NQ5E12C0LOF160QDKRNCOGGJA3
Z7_NQ5E12C0LOF160QDKRNCOGGJQ0
Portal UdeA - Iconos Footer - WCV(JSR 286)
Actions